Engineering Flexibility
iCalc Xpress finally delivers a versatile and user-friendly single member sizing design tool to the engineering and design community which allows the Engineer or Specifier to design and specify the main timber and engineered wood beam products without switching between software programs. Designed to provide value engineered solutions, not just specifications, its flexibility will save time and thereby reduce engineering cost.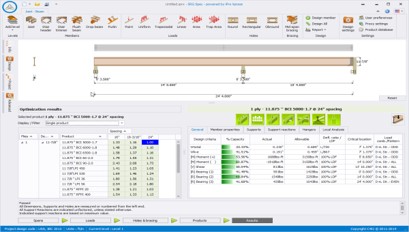 Why choose iCalc Xpress ?
We believe that software should be a tool that enables you to reduce cost within the process of the design and supply of wood products design community and that is why we have made the iCalc Xpress Software so easily accessible, user-friendly, flexible and at a low entry cost to the EWP design community. The iCalc Xpress Engineered Wood Product software has been developed for the individual or company that desires one software program with freedom of choice in the design and specification of lumber, glulam and most engineered wood products and systems, and the ability to specify solutions for all products and EWP manufacturers in one single design run.
Purchasing options that work for any organization

3 versions from £10 / month
Light, Expert, Engineer, there is an affordable version to best suit your needs.

Volume purchase options
We offer volume license discounts to organisations in server environment or on single user base.